Client Testimonials
Adey provided an excellent service from start to finish, from creating the initial design for the garden to actually doing the work to make the design a reality. He listened to what we wanted from the garden, created a design that met our requirements, and provided guidance and advice on the best way to achieve our goals. Adey was more than willing to incorporate ideas we came up with as the work progressed, and he was keen to answer any questions we had.
The whole garden was finished in a matter of weeks, on target, and on budget, and we are delighted with the result. We would highly recommend Adey and would have no hesitation in using his services again.
Umesh Desai
Leicestershire
We were so impressed with Ady and his team from the very first meeting right through to the end result.
The daily progress was great down to the hard work through all weathers and the punctual, clean and attention to detail in the quality workmanship was second to none. It was great to have Ady's design ideas, input and his day to day site supervision and landscaping experience was all we could have asked for. And all completed on time and in budget!
We thank all the team again for making our dream garden a reality for us to enjoy all year round.
JC
Leicestershire
Right from our first meeting with Ady, we found he had a very professional manner. He was extremely adaptable as we had many of our own ideas initially, but soon realised that Ady had a great deal of knowledge in landscape gardening which we were very happy to take on his thoughts. Their work was always done to a high standard, and very thorough. We were so pleased with our garden, that a few of our friends have also placed business with them.
Angela & Ron Pitches
Wigston, Leic's
I am writing to thank you and Liam for truly transforming our concrete farmyard into the beautiful garden we enjoy every day. Everybody who visits cannot believe the transformation, the bowling green lawn, the borders, decking and flagstone terraces. It was a pleasure having you working here, with a very personable, totally reliable and professional service. I have absolutely no reservations in recommending you to my friends. If you wish for any prospective clients to visit us I would be happy to oblige.
Warm thanks, and success in your business.
Rob and Kate Parker
Thank you for the design and implementation of the hard landscape work around my new barn building. Despite difficult site access and sometimes appalling weather, your team completed on time and on budget, with the minimum of fuss and mess! Everyone has admired the sleeper walls and I think the quality of the landscaping enhances the whole building.
I would certainly recommend you!
Regards,
Susan Heggie
Beggarsbush Barn
Frisby-on-the-Wreake
How to Contact Us
If you would like to contact us for any reason, please use the information shown below - alternatively, you can send an email enquiry direct to us by clicking Here.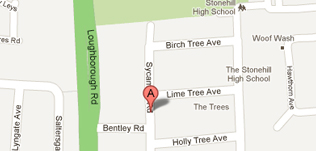 AM Garden Design Ltd
Business Address:
27 Sycamore Rd
Birstall, Leicester
Leicestershire
LE4 4LX
Tel: 01162 672862
Mobile: 07801 978860
Company Registration Number: 4833378